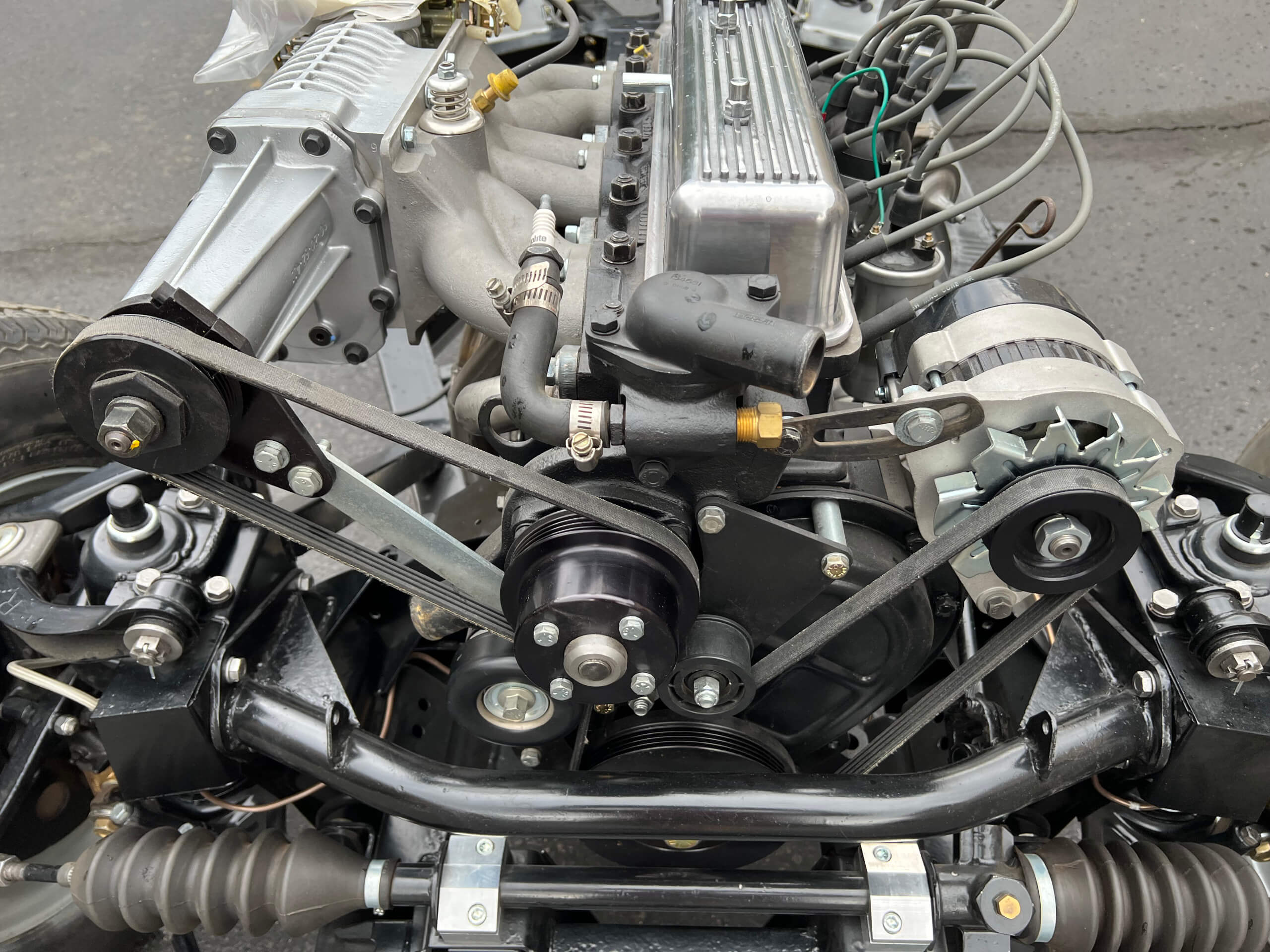 An exciting Triumph TR6
project with high-end components
No expense has been spared on this frame-off restoration project.
Frame & Chassis
Frame was professional Straightened and structural components were media-blasted and professionally powder coated. Performance springs, Koni shocks, Wilwood disc brakes.
Engine & Transmission
A full professional rebuild with mild performance cam, hardened valve seals, and Moss SuperCharger. Toyota 5-Speed, Custom drive shaft, Lexus LSD + Upgraded CV Axle/Hubs.
Interior & Bodywork
Ready-to-go with new carpets, new seats, rubber seals, wood steering wheel, hard-top, media blasted body panels, and much more!
Introduction
This 1971 Laurel Green Triumph TR6 originally belonged to my father-in-law, and he gave it to me about 15 years ago as a project we could work on together when he moved out to Colorado. I trailered it out to my home in Golden, Colorado from Clearwater, Florida where it was being stored under tarps in a shed. I moved it into straight into my climate-controlled workshop where it sat until about 2010 before we got around to the initial restoration. Most of the replacement parts for this restoration project were purchased at Moss Motors, The Roadster Factory, GoodParts and Victoria British. Based on the commission plate, this car had a build date of JAN 1971 with a comm number of CC 61316 LO with paint code of 55 and Trim of 33.
We made gradual progress over the intervening years, but as I'm a self employed web developer, I never really had enough time to dedicate to the project. Instead of finding more time, I am finding myself with even less time available than ever before, my father-in-law is not getting any younger, and am simply unable to complete this project. So with a heavy heart, I'm looking to sell this project car, with everything TR6-related that I have purchased for it over the years. I also have a second 1971 TR6 Parts Car that has already donated a few parts to this project, but has a great dash/gauges, various, exterior items, and other parts that can also included.
Over the course of this project I have invested over $30,000 to purchase the cars, restore the chassis, rebuild the engine (including supercharger), and procure all the components and parts. I know I'm not going to recoup this, I'm just looking for a good home for this project so someone can finish what I've begun and enjoy driving it!
Please review the sections below along with the corresponding photo galleries to get a full picture of everything that's included.
Chassis & Powder-coating
I first stripped down the whole car to the bare chassis when I realized that the frame was not 100% straight. I took it to a local collision center, where it was straightened using laser optical measuring, so that after it was done, it was straighter than any stock TR6! I then media blasted and cleaned up all the chassis and suspension components and took them to Paul at Sports Car Craftsman in Arvada, CO, who specialize in classic british sports cars. They added some welds and some other strengthening braces to known weak points of the frame. After that, they powder coated everything in black for a super-clean look.
Suspension, Brakes, Nuts & Bolts
I cleaned and blasted most of the nuts and bolts, and also purchased several packs of high-quality new nyloc nuts from the Bolt Depot, so most of the components were put together with these. All bushings were replaced with new ploy bushings, and I bought rebuild kits wherever perished items were found, for example in the lower control arms. I also purchased high-performance GoodParts springs for both front and rear that should also lower the car by about 1" (I also purchased some spring spacers, but they are currently not installed). I also installed Koni adjustable shocks as well as fully adjustable rear trailing arm brackets (also from GoodParts) to allow for easier suspension setup compared to the old 'shim' solution on the original car.
Regarding brakes, the front brakes are upgraded with Wilwood Calipers (black) for better looks, increased stopping power, and much lighter unsprung weight. The rears use the stock drum brakes, but have upgraded pads and upgraded rear wheel cylinders for increased performance. Brake lines are all new with a copper tubing and braided lines.
Also from Goodparts, I installed a new aluminum steering rack mount kit as the stock one with thick rubber bushings is notorious for slipping and providing suboptimal handling characteristics.
Oh! And check out those sweet Michelin Redline Tires! Very desirable.
Drivetrain
The stock engine was completely rebuilt by the guys at [Sports Car Craftsman][ports-car-craftsman] with many enhancements including a mild-performance cam, hardened valve seals to allow for modern unleaded gas, new piston rings, bearings, caskets, water pump, thermostat, etc. The cherry on the top, is of course the addition of an Eaton Roots-type Moss Motors Supercharger with a Holley 350 two-barrel carburetor which claims to add 40hp and 75ft-lbs of torque to a stock TR6 engine.
To tame this engine, I decided to replace the stock overdrive-enabled 4-speed transmission with an HVDA 5 speed conversion kit utilizing a refurbished 5-speed from an '1985 Toyota Celica. While I was at it, I also upgraded to an R200 limited-slip different from an Infinity Q45, and also upgraded the CV Joint Axle and Hubs using a kit from GoodParts again. I also had a custom driveshaft built by a specialty Denver shop as there were no off-the-shelf options for my R200 to Toyota 5-speed transmission.
Exhaust
To full take advantage of the new super-charged engine and also create the look I was going for, I bought a new Stainless Steel Sports full exhaust system with Twin pipes from Rimmer Bros in the UK and had it shipped to me in Colorado. Currently on the exhaust manifold is fitted, and the rest of the exhaust system is still in the original box.
Seats & Interior
The original tan vinyl seats were in pretty bad shape, so we completely renovated them with new diaphragms, straps, clips, foam, and new black vinyl coverings. Also purchased (but not yet installed) is a full original style, black carpet kit, and full interior trim kit with door cards, and everything else needed to fit out the interior.
Body
The body of the TR6 was professionally media blasted and the intention was to get it professionally repaired and painted, but unfortunately this is where my life got too busy and the restoration project came to a grinding halt. The body and all the panels have been professionally media blasted along with our other body components. There is quite a bit of body work that is required to get this body shell into shape, but there's nothing major, most of the rust holes are quite small. You can see all the details in the gallery below.
Miscellaneous
Over the years I've purchased many items that have not yet made it into this project. Things such as a full body mounting kit to ensure the body-to-chassis mating process was painless. Also, all new clips and bolts needed to attach the fenders to the body are also included. Basically most of the rubber items for the car have new replacement parts purchased and available.
I also have a lovely new wooden steering wheel with embossed horn button, new wooden shifter knob, aluminum radiator with electric fan, as well as a Snugtop Custom Hardtop that came with the parts car mentioned above. As you can see in the photos below I have many items that are still new-in-bag, just waiting to be used.
16x7" Enkei Compe Wheels + BFG G-Force Comp-2 Tires ($900)
My vision for this car was for it be a very dark British Racing Green, with gun-metal minilight-style wheels. I fell in love with these Enkei Compe 16x7 wheels, that I feel would look great on this car. I purchased these along with 4 205/66 ZR16 BFGoodrich G-Force Comp-2 tires and had them mounted and balanced. These are brand-new, never installed, never used.
Get in touch
If you are interested in purchasing this Triumph TR6 project, please feel free to contact me via this form. Also please let me know if you would like to see more photos, or if you have any specific questions.
LOCAL PICKUP ONLY, there's just too much stuff here to ship.
Andy Miller
Colorado-Triumph.com
29320 Industrial Way
Evergreen CO 80439
USA